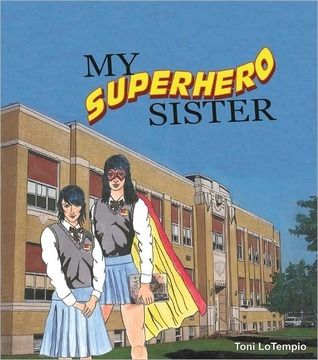 My Superhero Sister
Young Adult Fantasy by Toni LoTempio
Blurb:
Holly Hamilton has always been perturbed by the way her older sister, Ellen, seems to get everything. It's especially tough living in the shadow of your sister's cape when she's a super heroine named Suprema!
With one super-parent and one not, it was inevitable that the girls would turn out different. Unfortunately for Holly, she takes after her earthling mother. Ellen has taken over their retired father's role as Century City's reigning superhero, balancing school and super-duties with remarkable ease while it's a struggle for Holly to get through her English class without mishap, not to mention those Cheer Squad tryouts!
The girls learn their father's old nemeses, Anti-Hero, has escaped from his Space Prison, and they're concerned – Anti-Hero nullified their father's powers once – what else does he have in store for him and Suprema? When another teen superhero extraordinaire appears on the scene, they're even more puzzled. Who is Magna Boy? Is he friend or foe? And does he have a connection to Anti-Hero? The appearance of two new guys at school, teen heartthrob Tad Barker and nerd Ed McGee, set Holly and her sister to wondering—and arguing—could one of them be the new super kid on the block? If so, which one?
Working with her friend Mona and her scientist uncle, Holly finally uncovers Anti-Hero's dastardly plot – he intends to capture Suprema and Magna Boy and siphon their powers for himself! Before she can warn her sibling, however, Anti-Hero strikes and captures the superheroes. Now it's up to Holly to use her ingenuity and prove to everyone, but most of all herself, that you don't' have to be a superhero for good to win out over evil…or to nab a super-boyfriend, either!
Excerpt:
A sharp wind gusted through the open window just behind Ms. Proctor's left shoulder. The jet stream scattered papers helter-skelter, and blew with such force it pushed some kids standing against the far wall down to the floor. Faster than lightning, it plucked the binder from Proctor's hand and in a whirling motion sent it spinning across the room. Backpacks, pencils, and one boy's camera sailed up into the air from the force of the wind. Everyone started shouting at once, trying to be heard above its howling:
"What's happening?"
"Where did this come from?"
"It's a twister."
As the gale subsided, everyone crowded at the window. Indeed, the tip of a whirling dervish could be seen disappearing over the crest of the hill.
"Wow," breathed one tall sophomore. "Never seen anything like that before."
"No," agreed another. "Cool and scary, all at the same time."
As my eyes narrowed with sudden suspicion, Ms. Proctor leaned against the wall. "That was close," she said. "We're lucky there wasn't more damage. Now, if you will excuse me—"
She lumbered across the room, presumably in search of my binder, and I heard a loud hiss come from under the windowsill. I glanced around and, seeing that no one paid any attention to me, I poked my head outside.
Ellen brushed some dirt and grass from her skirt. Clutched in one hand was my binder.
"Don't tell me," I said. "That whirligig was you, wasn't it?"
Ellen just smiled and pushed the binder into my hand.
"Give Ms. Proctor this one, won't you?" she said with a wink. "And from now on, do your assignments on time."
Then she was gone, another blur.
I gave the binder a drop-kick into a far corner of the room, then shuffled back to my seat. I watched till Proctor found it, cradling it to her chest like it was gold or something precious over to one corner to read. I busied myself with the rest of my Algebra homework. A half-hour later when the bell rang for the next class, she hurried over to me, binder in hand. .
"I must apologize, Ms. Hamilton," she said softly. "That was actually the best review of
Silas Marner
I've read in quite awhile. You must have really loved that book."
"Oh," I said as I slipped the binder back in my backpack, "I did. I really did. I can honestly say writing that piece was a—a moving experience."
Good old Ellen comes through again.
"Well…" Proctor paused, clearly floundering about for words. I was vastly amused. I'd never seen the teacher at a loss for words before. "Possibly I was wrong about you, Ms. Hamilton. We'll just see what you do with the next report."
"Yes, thank you, Ms. Proctor."
I turned and hurried from the auditorium, hoping that the next report due wouldn't be on
Gone with the Wind.
Available at:
Amazon | Barnes & Noble
About the Author:
Toni LoTempio is an admin by day, author by night. She's also a staff reporter for SUSABELLA PASSENGERS, a pulp magazine for collectors of antique children's literature, and a suspense columnist at NIGHT OWL REVIEWS. She lives in New Jersey with four insane cats (one of whom, Rocco, has his own
BLOG
. She's also authored several adult books, the most recent of which is
NO REST FOR THE WICCA, RAVEN'S KISS
AND
RAVEN'S QUEST
, all paranormal romance/suspense.
Visit her at:
http://www.tonilotempio.webs.com
http://www.catsbooksmorecats.blogspot.com
a Rafflecopter giveaway